품질 보장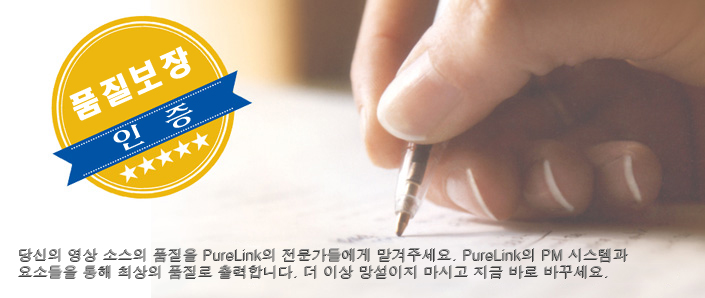 RAMSEY, NJ, Mar. 6, 2014 – PureLink today announced the launch of the PureAssurance certification program, PureLink's proprietary design and installation resource for next-level customer care and support. PureAssurance will present a database of PM (PureMedia) certified display, source, and control devices that will assure optimal performance.
"Because of the flood of new A/V devices, installers are constantly facing incompatibility issues," said Kevin Kang, PureLink's Associate Technical Director. "This program will enhance dealer and buyer confidence when specifying PureLink solutions and facilitate compliance with different brands."
PureLink's team of experts tests the most readily used HD and Ultra-HD devices with PureLink products in various conditions. "The new PureAssurance certification program will help dealers who specify PureLink products win more bids and differentiate themselves from competitors," explains Jake Kim, PureLink's Manager of Technology Deployment and Assurance.
PureAssurance is an in-house testing and certification program that ensures the performance of various UltraHD displays and sources, such as media players, VTC cameras, projectors, and video processors, with PureLink's PM systems and components. Devices that are certified through PureAssurance are continuously tested to determine the ability to conform to PureLink's technical standards or specifications. It will provide systems integrators and designers with the assurance that PureLink solutions will perform accurately and consistently.
SOURCE DEVICES

MEDIA PLAYER

Manufacturer

Model

LG

BP730 (4K)

Nuvola

NP-H1 (4K)

Oppo

BD-103 (4K)

Panasonic

DMP-BDT330 (4K)

RED

REDRAY 4K Cinema Player (4K)

Samsung

BD-F7500 (4K)

Sony

BDP-S790 (4K)

PC/MAC/LAPTOP

Apple

MacBook Pro® with Retina Display (4K)

CAMERA

Blackmagic

Production Camera 4K (4K)

Sony

FDR-AX1 4K Camcorder (4K)

DISPLAY DEVICES

FLAT PANEL DISPLAY

ASUS

PQ321Q (4K)

Christie

D4K2560 (4K)

LG

55LA9700 (4K)

Panasonic

TC-L65WT600 (4K)

Planar

UR8450 (4K)

Samsung

UN65F9000AF (4K), UN55F9000AF (4K), UN85S9VF (4K), UN85S9AFXZA (4K)

SEIKI

SE39UY04 (4K), SE50UY04 (4K)

Sharp

PN-K321 (4K), LC-70UD1U (4K)

Sony

XBR-55X900A (4K), XBR-84X900 (4K)

TCL

LE50UHDE5691 (4K)

Toshiba

58L9300 (4K)

OTHERS

AV RECEIVER

Denon

AVR-X4000 (4K), AVR-4520CI (4K)

Harman Kardon

AVR3700 (4K)

Integra

DTR-30.5 (4K), DTR-40.5 (4K), DTR-50.5 (4K). DTR-60.5 (4K), DTR-70.4 (4K), DTR-80.3 (4K)
?